Definitive Map Consolidation
-
Virtual by Microsoft Teams
Consolidating a definitive map can be a daunting task to tackle even if recognising that an up to date map is of huge benefit which can save a lot of officer time. It's a task that there is never time to address and is always shifted forward. This course breaks down the task to create a plan, assess resources, develop process and make a start having considered various methods, pitfalls to avoid, and gathered experience from others who have already achieved consolidation.
Main topics
Why consolidate, making the business case for resources
Creating a plan to calculate resource needed and timescale
Rationalising boundaries, path numbering, parish loss or gain
Making Omnibus Legal Event Modification Orders
Digitising the map, interpretation and discretion
Discrepancies and anomalies
Making a start!
Learning outcomes
Appreciation of the value of consolidation and its business case
Awareness of what is needed to implement procedure
Understanding of the process and how to start
Level
Intermediate. A working knowledge of the definitive map. The course is designed for council officers responsible for definitive map records, as team leader, officer or technician.
Trainers
Laura Wilkins Definitive Map Team Leader, Kent County Council
Maria McLauchlan Definitive Map Officer, Kent County Council
Cost
Members £251, non-members £359 (+VAT)
Software
Microsoft Teams is the software used for training which is available to anyone. Using the app is strongly recommended for full functionality as the web browser version may be missing some facilities, although full participation should be possible.
Terms and Conditions
Contract
Acknowlledgement of booking and receipt of purchase order is taken as a binding commitment for attendance at and payment for the event.
IPROW reserves the right to refuse bookings if appropriate to the success of the event.
Terms for payment are no later than 28 days after the event.
See Privacy Notice for how we use booking data.
Member Discount
Member discount applies for people who are a member at the time of booking and on the date of the event.
New members must have completed the membership process no less than two weeks before the event to qualify for discount.
Substitution
A member can substitute for another member without charge.
A member can substitute for a non-member but the discount will not apply if the booking has already been invoiced.
A non-member substituting for a member after the invoice has been raised will incur a charge of £30 for second invoice plus the amount of the discount.
Cancellation
Events are invoiced no more than one month prior to the course, except by special arrangement, such as one purchase order covering multiple event bookings.
Cancellation after the invoice has been raised will remain chargeable in full.
Cancellation prior to an invoice being raised will not incur charge.
If an event should be undersubscribed or a trainer should be unavailable through illness or injury, IPROW reserves the right to cancel the event  or postpone to a date agreed with all parties. Fees already paid will be refunded if the event is cancelled or a person booked is not able to attend as a result of postponement.
Other Events which may be of interest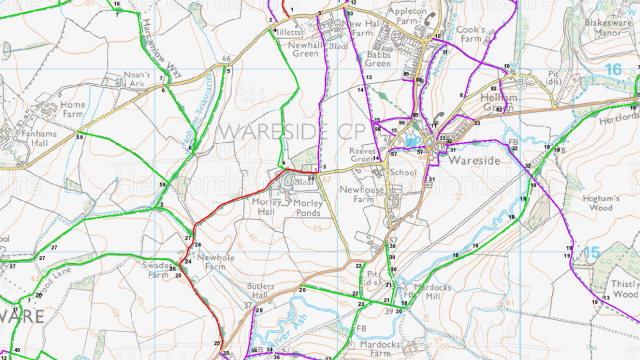 Definitive Map Consolidation
Virtual by Microsoft Teams
Consolidating a definitive map can be a daunting task to tackle even if recognising that an up to date map is of huge benefit which can save a lot of officer time. This course breaks down the task to create a plan, assess resources, develop a process and make a start. £251 (non-members £359)