Interviewing Skills
-
9.30 to 13.00 each day
Virtual by Microsoft Teams
This is an intensive course providing the foundation and theory on which to undertake an effective investigative interview with a witness or an offender and produce an evidential statement or record of interview to further any investigation.
Elements of the theory will be demonstrated and delegates will participate in short exercises to practise their application and awareness of hazards.
Interviewing is a practical skill but there is a lot of theory that needs to be understood as a foundation, which is provided by this course.  A sequel is available which builds on the foundation with further practical application via a case study, role actors and constructive feedback.  The second day can be scheduled subject to enough demand.
Main topics
How people store and retrieve information
Importance of interview preparation and how to create a plan
Factors influencing the timing of an interview, the choice of interview location and the resources that may be necessary to conduct an effective interview
Distinguish between a productive and counterproductive questions
Detail and fine grain detail
Methods for checking the meaning and accuracy of the information provided, and challenging an account
Construct an accurate structured statement from the investigative interview
Closing an interview and its importance for the investigative process
Level
Intermediate.  The course is designed for people interviewing and statement taking from user evidence for modification orders.  The techniques apply equally to enforcement.
Trainer
Alison Knight is a senior partner at Alison Knight Training Consultancy and an experienced investigator having held a wide range of operational, training and organisational appointments. Specialising in bespoke advice, training and support for all areas of investigation for the public and private sector.
Cost
Members £251, non-members £359 ( exc VAT)
Software
MS Teams is widely used software within local authorities and other organisations. If you do not already use Teams, you may wish to install Teams for free on your own computer, or you can join using a web browser on any computer. Some features are not available on the latter but it will not prevent your full participation as we may also use Vevox, which is an app you may wish to install on a smartphone, or is available through any web browser.
Terms and conditions
Contract
Acknowlledgement of booking and receipt of purchase order is taken as a binding commitment for attendance at and payment for the event.
IPROW reserves the right to refuse bookings if appropriate to the success of the event.
Terms for payment are no later than 28 days after the event.
See Privacy Notice for how we use booking data.
Member Discount
Member discount applies for people who are a member at the time of booking and on the date of the event.
New members must have completed the membership process no less than two weeks before the event to qualify for discount.
Substitution
A member can substitute for another member without charge.
A member can substitute for a non-member but the discount will not apply if the booking has already been invoiced.
A non-member substituting for a member after the invoice has been raised will incur a charge of £30 for second invoice plus the amount of the discount.
Cancellation
Events are invoiced no more than one month prior to the course, except by special arrangement, such as one purchase order covering multiple event bookings.
Cancellation after the invoice has been raised will remain chargeable in full.
Cancellation prior to an invoice being raised will not incur charge.
If an event should be undersubscribed or a trainer should be unavailable through illness or injury, IPROW reserves the right to cancel the event  or postpone to a date agreed with all parties. Fees already paid will be refunded if the event is cancelled or a person booked is not able to attend as a result of postponement.
Other Events which may be of interest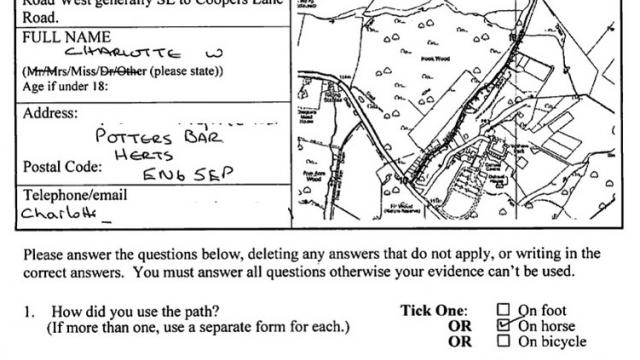 Interviewing Skills
Virtual by Microsoft Teams
Interviewing skills can be critical to the success of a case, whether DMMO or enforcement, for bringing out as much information as possible, and also, very importantly, avoiding contamination from bias or statement 'templating' and spotting cross-witness influence. £251 (non-members £359) (exc VAT)