Annual Update
-
Virtual by Microsoft Teams
IPROW's Annual Update is a conference style event with a series of speakers relevant to current challenges, intended to provoke thought, inform discussion and help identify opportunities for review or change of practice.
The Update 2022 will be virtual using MS Teams to take advantage of the many benefits of the event while avoiding the time and cost of travel.
Overview
The Update comprises ten one hour sessions which will include audience discussion. The breaks between will have casual 'chat over coffee' drop-in opportunities for networking and opportunity to meet trade suppliers.
Programme
The programme has ten one hour sessions of speaker(s) including questions and answer. The breaks between will have casual drop-in chat opportunities and conversations with trade suppliers.
Questions will be posed via a website to separate them easily from informal comments on Teams 'Conversation'.
N.B. Allocation of time slots may have to change with any speaker's circumstances.
| Monday |   |   |
| --- | --- | --- |
| 09.30 | President's Welcome | Chris Miller, Lincolnshire County Council |
|   | Nature and health: how and why public rights of way benefit both | Dr Caroline Jessel |
| 10.30 | Break with drop-in chats |   |
| 11.00 | Case law review | George Laurence QC, New Square Chambers |
| 12.00 | Break with drop-in chats |   |
| 12.45 | Increasing access to blue spaces | Ben Seal, British Canoeing |
| 13.45 | Break with drop-in chats |   |
| 14.15 | What parish councils can do for rights of way | Carol Ramsden, Birketts LLP & parish clerk |
| 15.15 | Break with drop-in chats |   |
| 15.45 | TBC | Lady Arden of Heswall |
| 16.45 | Annual General Meeting |   |
| 17.00 | Close |   |
| Tuesday |   |   |
| 09.30 | Short updates on national or IPROW projects | Various |
| 10.30 | Break with drop-in chats |   |
| 11.00 | Dogs in the outdoors in a post-covid world | Stephen Jenkinson, Dogs in the Outdoors Specialist |
| 12.00 | Break with drop-in chats |   |
| 12.45 | Public Path Order charging | Gavin Harbour-Cooper, Hertfordshire |
| 13.45 | Break with drop-in chats |   |
| 14.15 | Invasive non-native species on ROW and adjacent land | Tim Bird, Cornwall |
| 15.15 | Short break |   |
| 15.30 | Making more of rights of way with 'Slow Ways' | Daniel Raven-Ellison |
| 16.30 | Review of the Update | Chris Miller, Lincolnshire |
|   | Close |   |
Dr Caroline Jessel is a retired GP involved with natural environment organisations and passionate about the links between health and nature. She will summarise the evidence that closer connection with nature and regular exercise have powerful health benefits as well as discussing the wider importance to communities of well-managed networks for use on foot, cycle or horse.
George Laurence QC talks about recent case law and implications for rights of way and access work. Some important cases are anticipated this year which will provide much to discuss.
Covid brought into sharp focus the importance of public access to green and blue spaces for recreation, drawing attention to the inequalities in accessibility. Being active outdoors undoubtedly makes society healthier, happier and more resilient to illness, but over 96% of rivers are still perceived as being 'off limits' for public enjoyment. Ben Seal looks at redressing the balance toward fair, shared access to blue spaces.
Carol Ramsden, PRoW Consultant at Birketts LLP and Parish Clerk,  looks at engaging with parish councils to achieve benefits to rights of way from parish councils' powers to create, maintain and improve, the funding available to them and their input to planning matters.
Lady Arden of Heswall recently retired as a Supreme Court Justice having made an enormous contribution to the Court's work through her judgments, most notable for rights of way practitioners being Ashbrook v East Sussex County Council [2002] (the infamous Van Hoogstraaten case).
Progress reports from IPROW, Natural England and Natural Resources Wales on various projects. Depending on how long updates take, this period may also include report on Active Travel from Richard Garner and will then extend end time with a shortened break to follow.
With 4 million more dogs living in 33% more UK households since the start of Covid, it's more important than ever to plan and manage access for walkers with dogs. Stephen Jenkinson will provide an update on ways to support the health benefits of dog walking while minimising any adverse impacts on other people, wildlife and livestock.
With Defra pursuing implementation of the right to apply, councils may review their public path order charging policies and how to accommodate the likely increase in workload without disproportionate loss of officer time to the task. Gavin Harbour-Cooper explains Hertfordshire's method to minimise staff involvement to only those aspects that the council alone can do.
Tim Bird offers Cornwall Council's approach to managing invasive plants; looking at the law, policy, treatment methods and successful good practice working with landowners to treat INNS on rights of way and, where possible, adjoining land.
Slow Ways is a project to create a national network of routes that connect Britain's towns, cities and national landscapes. Its founder, Dan Raven-Ellison, talks about how the bold project aims to get more people walking more often, further and for more purposes.
Annual General Meeting
IPROW's Annual General Meeting will be held on Monday 10 October at 16.45 with the opportunity to discuss the work and future of IPROW. AGMs are informal and tend to be short and members are strongly encouraged to stay for the meeting so that decisions are representative of the membership.
Cost
Members: free (treated as 100% discount for the booking system)
Non-members: £340, £45/session (exc VAT) (minimum three sessions but may be spread over multiple people in one authority so long as there is one invoice)
Software
The software used will be Microsoft Teams. You do not need a Teams account, you will be able to join via a web browser. We can test this with you prior to confirming your booking if required.
Terms and conditions
Contract
Acknowlledgement of booking and receipt of purchase order is taken as a binding commitment for attendance at and payment for the event.
IPROW reserves the right to refuse bookings if appropriate to the success of the event.
Terms for payment are no later than 28 days after the event.
See Privacy Notice for how we use booking data.
Member Discount
Member discount applies for people who are a member at the time of booking and on the date of the event.
New members must have completed the membership process no less than two weeks before the event to qualify for discount.
Substitution
A member can substitute for another member without charge.
A member can substitute for a non-member but the discount will not apply if the booking has already been invoiced.
A non-member substituting for a member after the invoice has been raised will incur a charge of £30 for second invoice plus the amount of the discount.
Cancellation
Events are invoiced no more than one month prior to the course, except by special arrangement, such as one purchase order covering multiple event bookings.
Cancellation after the invoice has been raised will remain chargeable in full.
Cancellation prior to an invoice being raised will not incur charge.
If an event should be undersubscribed or a trainer should be unavailable through illness or injury, IPROW reserves the right to cancel the event  or postpone to a date agreed with all parties. Fees already paid will be refunded if the event is cancelled or a person booked is not able to attend as a result of postponement.
Other Events which may be of interest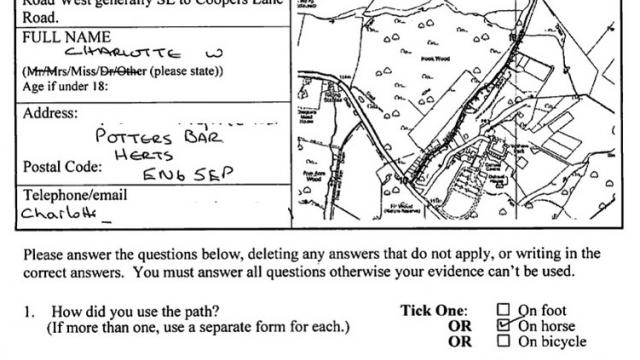 Interviewing Skills
Virtual by Microsoft Teams
Interviewing skills can be critical to the success of a case, whether DMMO or enforcement, for bringing out as much information as possible, and also, very importantly, avoiding contamination from bias or statement 'templating' and spotting cross-witness influence. £251 (non-members £359) (exc VAT)